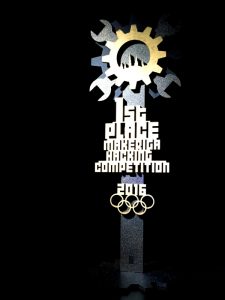 Last weekend the Institute of electronics and computer science (EDI) hosted MAKE RIGA Hacking competition 2016, which is set to become a yearly tradition. Co-owner of 1st Ltd Kirils Solovjovs defended his champion title by attaining first place once again.

"The number and variety of challenges as well as the number of contenders is clearly increasing, providing for a lively competition. I was not originally planning to attend, but seeing the high response rate, I decided to give it a go and sign up for the competition on its second day. One could say that ending up at the top this year was a pleasant accident," champion Kirils Solovjovs said with a smile.
This year the organizers had prepared 33 challenges – 57% more than the previous year – to wrestle with in the following categories among others:
encryption,
Internet of Things,
WiFi security,
social engineering,
embedded device and microchip analysis,
radio intercept and decoding,
RFID security,
reverse engineering software binaries,
security of network services.
This year's competition was well attended with 38 participants taking part from all around Latvia. Contenders included IT professionals, scientists and other interested parties.
The gold trophy was won by IT security expert Kirils Solovjovs who maxed out at 162 points. Krišjānis Stikāns was well behind with 99.5 points. Bronze trophy was awarded to Aleksandrs Levinskis for scoring 91 points. He was closely trailed by Dāvis Mosāns and "mkz" who scored 90 and 89 points respectively. Six of 33 challenges remained unsolved by anyone.